"Dogs have a way of finding the people who need them,
filling an emptiness we don't even know we have."
- Thom Jones
Would you like to share a success story? Provide motivation and inspiration for others who have struggled with decisions, treatments, and rescues? Have you experienced a "miracle" and have been given in return a lifetime full of love and thanks from a special pet? We learn so much from the generous and unconditional love that comes from an animal that has been deemed a throwaway, but taken from the unfit conditions of his/her life and given a chance, there emerges a soul unlike any other. We invite you to contribute to this page. Whether it was a success story that happened here at Governor Animal Clinic or elsewhere. Share with us your decision to open your heart for a needy animal, and what you received in return.
You can email your story and photo to our office manager Jan ([email protected]).
---
Parker's Story
The following four photos are difficult to look at, but we want to tell you Parker's story from the beginning…
Parker had an incredible impact on one of the many talented, caring and loving staff members at the San Diego Department of Animal Services. Instead of the scheduled euthanasia, his new foster mom Susan brought him into Governor Animal Clinic, on March 30, 2010.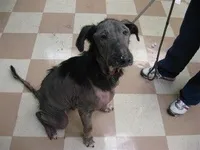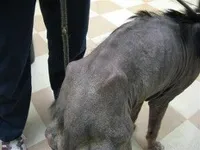 He was, as you can clearly see, severely emaciated, with infected sores, skin & ears, hair loss (the only hair he had was on his shoulders and a portion of his neck), and yellow scales down both sides of his body. The odor from this poor boy permeated throughout the entire clinic. X-rays revealed an old fracture on his tail. He was scared, sad and seemed to have a broken spirit. His tail hung limply, even when being fed tasty treats. Parker appears to be a very old, spiritless, sad and scared boy, but he definitely stole the hearts of each and every employee at GAC. We each spent time with him, letting him know how much we cared and were going to do all we could to bring him back to good health & spirit.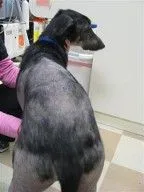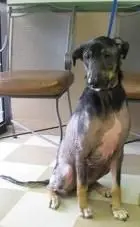 A few weeks later, on April 21st, Parker is showing some faith that we are here to help, letting a little bit of his personality come through. Although still worried and sad, tail hanging low, Parker is putting on some healthy weight and is beginning to show some new hair growth. Parker shows contentment and trust with Susan, his foster. Susan said that Parker is surrounded by her cats at home, who cuddle up to his almost hairless body for the warmth of his skin. His is such as good boy, maybe even enjoying their attention! Never having an accident in Susan's home, always "knocking" on the door to go outside. He follows commands, and is a very gentle boy.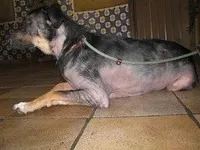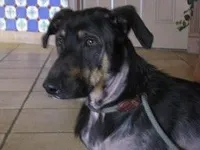 On April 27th Susan brought Parker in for another recheck, and just look at the hair growth on this boy! He came into the clinic with a smile on his face and wagging his tail--seemed happy to see us as we all came out to say hi and check up on his progress. Coming out of his shell, he was showing interest in the other dogs that came into the clinic. Parker's big smile tells it all!
On June 2nd, nine weeks after first meeting Parker and beginning his treatments, Susan brought him in for another recheck (below). He now has a beautiful, shiny, soft coat, he smells good and his tail doesn't stop wagging. He smiled throughout his exam. He loved his visit because most of the staff came in to admire how very handsome and happy he is!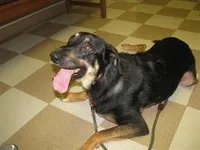 This incredible dog, taking even the most stoic heart and turning it to mush, is showing his foster mom Susan how very much he appreciates all she has done for him. Her tireless effort to follow all of Dr. Feinberg's directions for the treatments that returned a broken boy back into the happy, handsome dog you see below. Thanks to Susan, he has the comfort of knowing, once again, how very much he is loved.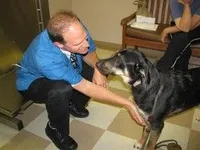 ---
Snowy's Story

As told by her loving owners.....
Snowy is a 16 year old, white cat who spent most of her life exploring the outdoors which unfortunately led to her getting skin cancer on the tips of her ears and eyelid.
What had begun as a small pink blister on the tips of both her ears, quickly (in weeks time) began to dissolve her ear tissue leaving behind open sores that bled constantly.
Very long story short...Snowy had received three separate ear removal surgeries on both ears over the span of six months and was only getting worse. Although her left ear had healed completely, her right ear was worse than ever and it didn't look like there was much else we could do for her.
To say we were devastated would be understatement.
By the time we found Dr. Feinberg we were facing two very difficult options. We could either a. pay thousands more dollars than we already had on more surgeries which are very hard for an older cat to recover from. and b. put her down.
After Dr. Feinberg listened to us explain how much life we felt Snowy had in her, he decided to try one last surgery to save her ear. He removed her entire ear canal and although she looked like a frankin-kittie when he finished, we could already see what an improvement in her quality of life she was going to have.
We are now about two months since Dr. Feinberg performed surgery on Snowy and she is the happiest 16 year old cat you could ever imagine. She wakes me up promptly at dawn for breakfast every morning and loves to have evening conversations while sitting on my lap at night. She plays at least once a day and clearly is enjoying life to its fullest.
We couldn't say thank you enough to Dr. Feinberg and Governor Animal Clinic Staff for what you all have done for us and Snowy. If it weren't for him, she wouldn't be alive today.
Thank you from our family and Snowy!!!!
PS. I don't really have a before picture of her ear because it was just too painful to look at. But I did attach a picture where she sadly has blood on her paw and head from her bleeding ear before surgery ):



Before After
Snowy, feeling so much better!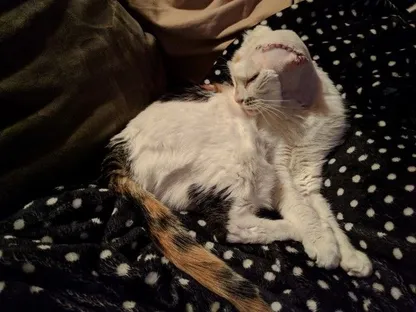 Turtle's Story.
While attending a friend's wedding in Cancun, Dr. Kathy Kaleka (taking along an empty carrier knowing she would be bringing back a rescue and finding a loving family to adopt him/her) met a particular little puppy who would steal everyone's hearts away. One of the American caterers working at the wedding helps with the rescue of stranded dogs and cats in the Cancun area. During the post wedding day brunch, the caterer brought with her a very young puppy that was found on the streets starving, emaciated, hairless, painful, sick and depressed. She asked Dr. Kaleka if this could be the rescue animal that she takes back; they did not have the means to care for all of her illnesses. This little one fit perfectly into the small carrier, so after a long eight-hour travel day, Dr. Kaleka arrived back to San Diego with "Turtle". (Being hairless, and found in the area of Turtle Bay, the name fit her perfectly!).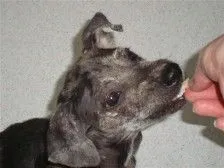 Turtle was a sick baby. In addition to being emaciated and malnourished, her many medical issues included flea infestation, tick fever, anemia, ringworm, mange, internal parasites, ear infection and swollen joints. During her two months in the isolation ward, she was given extra love and intense medical care from Dr.Kaleka, the students at Mesa College's veterinary technician program, and the staff of Governor Animal Clinic. In time, Turtle blossomed into a beautiful, happy, sweet, healthy puppy. She was now ready for adoption and so Dr. Kaleka put the word out.
Ironically, Turtle is now the very proud owner of Dr. Kaleka! "She wormed her way into my heart and I couldn't give her up!," says Dr. Kaleka. She now has a wonderful home with lots of love and three kitties to share with. She goes to dog parks, Fiesta Island, dog beaches and long walks every day. She can even go to "work" at Governor Animal Clinic several times a week, and brings smiles to people's faces every day – a far cry from her heart-breaking beginnings in Cancun. She is one lucky dog! Take a look at the "before" and "after" pictures.